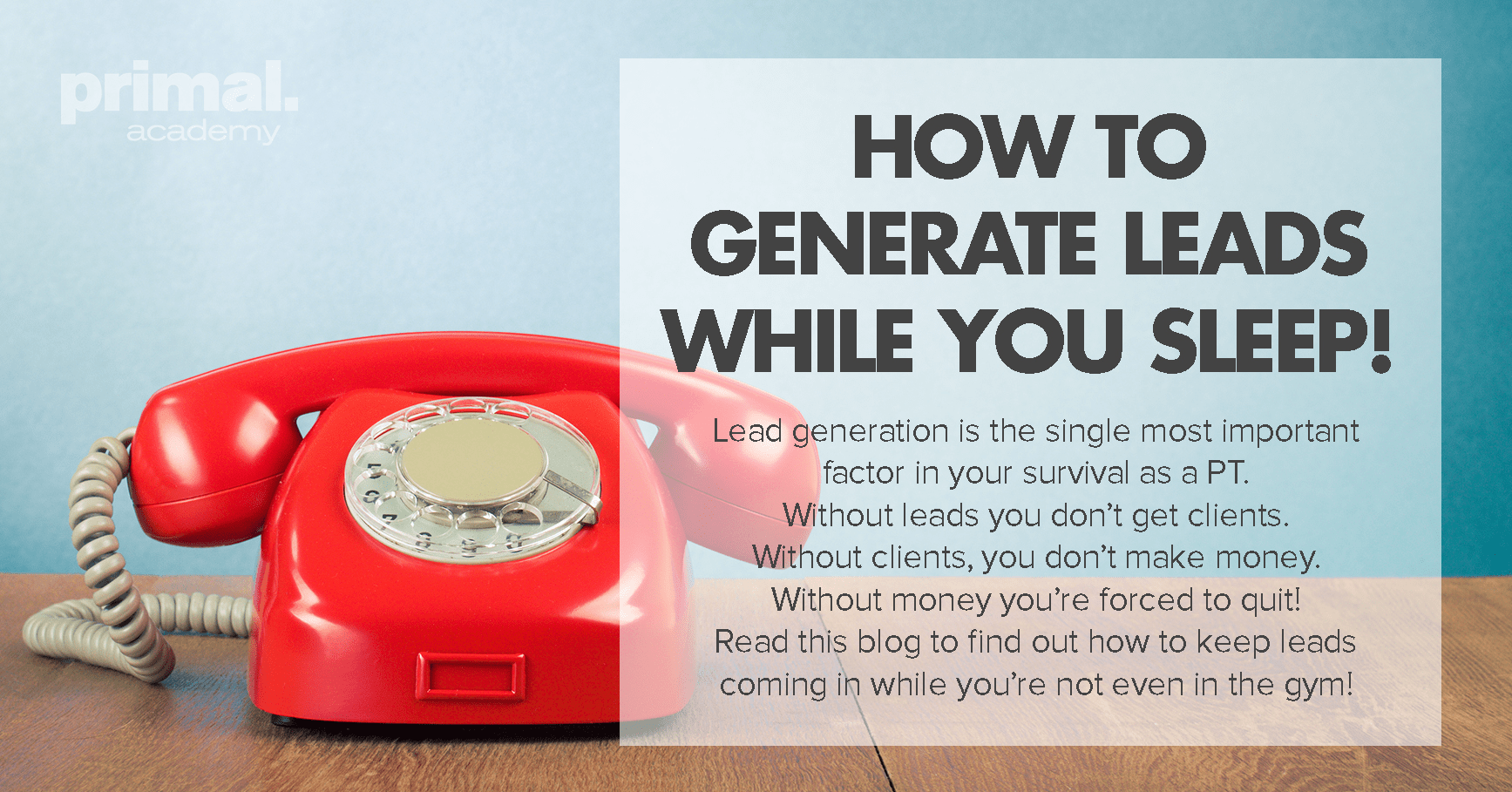 Lead generation is, without a doubt, the single most important factor in your survival as a PT.
Without leads you don't get new clients. Without new clients, you don't make money. Without making money you're forced to quit and find an income elsewhere.
You could be the best trainer in the world. You could literally be THE world leader in the health industry but if you don't have a method for generating leads, your skills are useless and you won't survive.
On the other hand, you could be the worst trainer in the world, making people fatter and unhealthier, but if you know how to generate leads, you'll survive in this industry (though I'm not suggesting you do this, obviously).
What Is A Lead?
A lead is any form of contact with a person who's showed an interest in your services.
It could be:
A phone number left on your voicemail
A private message via Facebook
An email your website has collected
A name given by a current client
Types of Leads
There are various different positives and negatives for each type of lead.
For example, a phone number left by someone specifically enquiring about your services vs an email address left on your website in exchange for a free report…
Of course you'd rather have the phone number because they've shown interest in what you actually sell and want to know more. The down side of the phone number is you only get one chance to sign them up. If, at the end of your conversation with them they say no to what you offer, it's game over. You don't get another chance with that lead and you may as well burn their phone number (for the perfect phone script, check out this course).
The email address on the other hand, you can send to multiple times, although they haven't shown as much interest because they just wanted the free thing on your website. So even though they haven't shown as much interest, you can email them one hundred times and get a hundred no's and still have a chance they say yes next time.
So How Do You Get Leads?
Well, the classic method in most gyms is to walk up to strangers who are currently working out, interrupt them, tell them they're doing it wrong and then ask them to give you money.
Not an effective lead generation technique by any means but it's certainly a popular one!
The good news is there are a other, more effective methods than can bring in new leads for you while you're not even in the gym. Here are some great examples:
A form on your website offering a free report in exchange for someone's email address
Asking your current clients for referrals
Social Media - making yourself visible on Facebook, Instagram, Snapchat etc.
How To Get Referrals
Right now, we're going to focus on the first one - getting referrals.
The reasons for this are obvious once you know the potential sign up rates.
Before a referral signs up, they need to be told to come and see you. To get your current clients to start sending you new clients there are a few things that need to be in place...
Number one - is you must be VERY good at what you do.
Being competent isn't good enough, you need to be one of the best at what you do in your area. It's a very simple formula; you get your clients amazing results, they tell their friends, their friends want the same thing, their friends come to you for it.
That gives you a big part of the referral puzzle but it's only halfway there because not everyone is going to shout about you, even if you're over-delivering on results.
To get every single one of your clients talking to their friends about you, you need to incentivise them to do it with a referral reward. Money, a free month, a voucher, whatever you like.
Don't be a tight-arse with your rewards either! One client should equate to more than £1,000 of income during the time they're with you, which means, in reality, you could give away a £999 reward and still be in the money.
Your reward needs to be motivating enough for people to leave you with the intention of talking to people about your services.
The beauty of referrals is how easy they are to sign up once they're in front of you. They turn up with their cash in their hand, pushing it towards you.
The biggest obstacle for people considering personal training is that there's no guarantee they'll get results. With referrals, that obstacle completely disappears because they trust their friend's judgement and can see their results for themselves.
What I'm telling you is that referrals are low-hanging fruit and you should maximise their potential as much as you possibly can.
Long Story Short
Here's what you need to do…
Get very good at what you do
Deliver amazing results to your current clients
Offer a referral reward
Collect the leads generated
Sign up every person referred to you
Getting referrals is just one piece of the Lead Generation pie. There are plenty more systems you can set up in your business that will build your list while you sleep, build your reputation and improve your fitness business.
If you're interested in learning more, check out the Generating Leads course.